Mother nature changed my Sunday night TV viewing. I was going to be watching the ALCS on Fox so that I could watch my beloved Texas Rangers beat the Detroit Tigers. However, some stupid MLB/FOX suit decided it be best to postpone the game till Monday afternoon and all because of some thunderstorms in the D-FW area. Now they will make-up the game at 3'oclock in the frigging afternoon. That pisses me off! I have to fake another illness at work just to be able make it home on time to catch the first pitch. Damn you baseball addiction! I hate having imaginary diarrhea.
One good thing about the baseball game postponement was that I was able to watch another gem for my Octsober fest. On this occasion, I re-watched the 1977 classic film, "The Car". The premise of the film deals with a mysterious car, perhaps demon-driven, that begins to torment and kill people in a remote California town, and only the Sheriff, played by a kickass James Brolin, has enough horsepower to stop the demonic car's rampage. The movie is awesome for all the wrong reasons, but a movie about a killer car cannot be watched whilst sobber. I recommend three boilermakers before attempting to view this driving drivel.

The movie chugs along at a good pace and the evil car looks creepy with its completely black exterior. The 70s style editing of the film makes it somewhat difficult to watch for us ADD millennium film watchers. So take my advice, drive down the Blockbuster and get yourself a copy of this fine film. Just make sure you have three boilermakers before viewing or the movie might drive you crazy.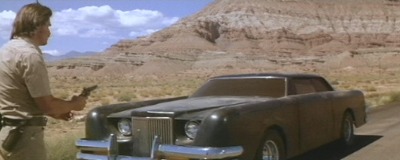 Do bullits damage the devil's car?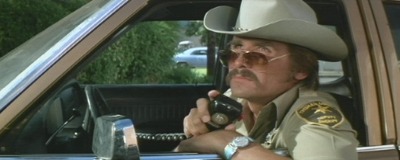 James Brolin is one bad mutha